Do You Need a Tri-Cities Bankruptcy Lawyer?
Kennewick's Trusted Bankruptcy Attorneys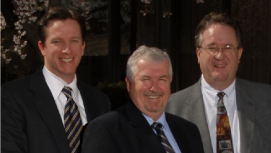 There comes a time when filing for bankruptcy is the only option you have to eliminate debt and stop creditors from continuously calling you on the phone and knocking on your door. The stress and strain of financial difficulties should not stop you from making the right decision. You need to take action fast by approaching a bankruptcy lawyer to help you start over.
Hames, Anderson, Whitlow & O'Leary, P.S., handles debtor and creditor bankruptcy cases in Richland, Pasco, Kennewick and surrounding areas. We are a debt relief agency that helps people file for financial relief under the Bankruptcy Code.
For a free, no-obligation bankruptcy consultation:
Call Now at 509-586-7797
Is Hiring a Bankruptcy Attorney Always the Right Choice?
It is possible to file for bankruptcy without the help of an attorney. However, it is always recommended that you hire a Tri-City bankruptcy lawyer when filing for a number of reasons.
For a start, this legal expert will ensure that the filing is done correctly in order to hasten the process and finalize everything sooner rather than later. The longer it takes to navigate the legal system the more interest is added to your debt and the more payments you will ultimately make. This is not effective and often isn't necessary.
Lawyers help their clients get the most benefit after filing for bankruptcy. For instance, is it better to attempt to "save your home" from inclusion in the bankruptcy filings, or not?  What are the repercussions of deciding either way? It can be difficult, if not impossible for you to know the actual answers to these types of questions – unless you consult a lawyer.
Lastly, working with a bankruptcy lawyer reduces the risk of unknowingly committing fraud. If there are errors in your paperwork that you fail to notice and rectify before filing, they may end up causing some detrimental consequences down the road. You can even be charged with committing a felony because of some slight mistakes you made during the filing process.  Better to hire an attorney, and not destroy your record.
Your Bankruptcy Lawyers in Kennewick, WA Can Help You Decide Which Type of Bankruptcy is Best for Your Situation
One of the most important decisions that you will have to make when filing for bankruptcy is the type of bankruptcy you would like to file. That is, whether to file Chapter 7, Chapter 11, or one of the other types of bankruptcy. (For more on the differences between these forms of bankruptcy, see below.)
Your local attorney will evaluate your situation, determine the type of filing for which you qualify, and then advise you on the most appropriate next steps to take.
Understanding Chapter 7 vs. Chapter 11 Bankruptcy
Chapter 7 bankruptcy is sometimes referred to as "straight bankruptcy." That's because it comes closest to what people typically think of when they hear the word "bankrupt" — it means you truly have no money to pay your sizeable debts.
Chapter 7 is designed to completely wipe out most of your unsecured debts (e.g. credit card bills, hospital and medical bills, etc.) If you qualify, you will not have to pay back anything on those loans. However, as part of the process, you may be required to sell certain assets. That's why Chapter 7 is usually reserved for people who make very little money and do not have many assets.
If you earn too much disposable income, you may not be eligible for Chapter 7. Instead, you'll probably need to file for bankruptcy under Chapter 13.
Chapter 13 bankruptcy is a process by which you pay back at least a portion of your debts through an organized repayment plan.
Many people prefer protection under Chapter 13 because it allows them to keep all their property and keep creditors off their backs while repaying debts in a manageable, structured fashion over time.
How much you pay each month depends on:
How much you earn
How big your expenses are
The value of your assets
The nature of your debts
Because there is some variance in the terms of a Chapter 7 or Chapter 13 bankruptcy, it's wise to have an experienced attorney guiding you along the way. In fact, hiring a Tri-Cities bankruptcy lawyer could mean the difference between a debt-free future, and yet another financial mess looming on the horizon.
Filing Bankruptcy as a Sole Proprietor in Washington
Some forms of bankruptcy are reserved exclusively for individuals, some are exclusively for businesses, and some can be used by either. But if you're a sole proprietor, you might feel like you fall in a gray area.
Generally speaking, if you are a sole proprietor, the government sees you and your business entity as one and the same. Accordingly, you'll need to file for protection under one of the bankruptcy chapters available to individuals (typically Chapter 7 or Chapter 13, as outlined above).
How to Choose a Reliable Tri-Cities Bankruptcy Lawyer
Now that you know how important it is to have a lawyer by your side, the next thing you have to do is to identify the right legal expert to help you in this process. Start off by identifying lawyers with experience and expertise in bankruptcy cases. Do not settle for a "general lawyer" if you are looking for this specific form of legal representation. An attorney with substantial bankruptcy experience will be knowledgeable regarding nuances in the law, that a "general attorney" may not know.
You need an attorney who knows how much of a reduction in your debt to request. There are specific reasons that judges look out for that allow debt reduction, and your attorney should know what these are and how to best use them to your advantage – given your specific set of circumstances.
Other considerations are the reputation of the attorney, and their fees. Hire an attorney who comes recommended, or has a good reputation in the legal community.  Hire someone you can trust to maintain professionalism and transparency throughout the filing process. And, of course, money is a consideration. Work with an experienced bankruptcy lawyer who is willing to charge reasonable legal fees.
The "Going It Alone" Problem
Human nature often encourages people who have a problem to fix that problem on their own. But that's rarely as simple as it sounds, particularly in the legal arena. "Going it alone" might sound tempting. It is certainly cheaper (in the short-run). You may think your are bright enough to figure it out on your own.  You may be tempted to go to Google, or "You-Tube University" and get tips that you hope will suffice and save you money on a lawyer.  
But Google does not carry a Bar Card.   Neither does You-Tube.  They are  not licensed to practice law, and neither are the many "contributors" who claim to be able to help.  In the end, trying it this way can lead to grave mistakes – and end up costing you much more in the long run.
There is no shame in filing for bankruptcy. On the contrary, in many situations, it's the wisest possible course of action — but it's a course you want to follow carefully. The bankruptcy process is here to help you, and so are we. Let us. By bringing an experienced strategist into your corner, you might finally free yourself from debt once and for all.
Make the decision to put debt behind you. Call the Washington bankruptcy attorneys in our office today.
Get the Experienced Legal Advice You Need From Washington's Knowledgeable Bankruptcy Law Firm
Do not let the stress of filing for bankruptcy overwhelm you. You can get a reliable bankruptcy attorney to help you get through this challenging time and get the most of what you have left.
Hames, Anderson, Whitlow & O'Leary, P.S. has the knowledge and experience you need to get through this trying time as quickly and efficiently as possible. We can help get the best possible outcome for your case. We are Kennewick, Pasco, and Richland bankruptcy attorneys you can count on.
Don't lose any more money. Now is the time to act.
Call us at 509-586-7797
Hames, Anderson, Whitlow & O'Leary, P.S. serves creditor and debtor bankruptcy needs for the Tri-Cities (Richland, Pasco, Kennewick, West Richland) and surrounding areas including Hermiston, Benton City, Prosser, Grandview, Sunnyside, Finley, Burbank, Desert Aire, Mattawa, and Othello.
For more information please visit the following pages: