Personal Injury Attorneys
Reputable Personal Injury Lawyers for the Tri-Cities Area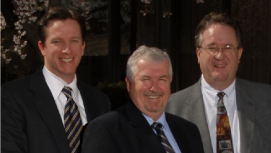 Personal injury is a term that is widely used to describe physical and mental harm that is caused by someone else's negligent actions. Auto accidents, boating accidents, slip and fall cases, and medical issues are some common types of personal injuries. If you have suffered any form of injury, talk to a personal injury attorney to find out how they can help. And remember – personal injury laws vary from state to state – so it is important to find a legal expert in your state.
Hames, Anderson, Whitlow & O'Leary, P.S., are experienced personal injury attorneys who you can trust for aggressive and efficient representation of clients in all legal matters.
For a no-obligation consultation, call now at 509-586-7797
The Advantages of Working with a Personal Injury Attorney
When facing a personal injury, you may not get the compensation you need if you don't hire a lawyer. The accident may seem simple, but these matters are very complex. You need help from an attorney to make sure you get just compensation for your injuries.
There are two issues that determine a personal injury case. First, a personal injury attorney will know how to obtain necessary or helpful evidence that supports your case.  They know what to look for, where to look, and how to get it. Then, they know how to present that evidence – both to the opposing side during negotiations – and to a jury should trial become necessary. There are rules of evidence, and only licensed attorneys are trained and skilled in the proper presentation of evidence in court.
The other option – not that we recommend it – would be to represent yourself in your lawsuit. So if you are considering "going it alone," here are five ways to lose your case. Avoiding these won't guarantee you a win, but it will give you a better chance of success.
Also – here are four things you should do if you get in an accident, even before contacting an attorney.
You can expect a high level of expertise when working lawyers who are experienced and skilled in personal injury law. Unlike general lawyers, personal injury attorneys understand the nuances of this practice field. By choosing the right lawyer or law firm, you will get high quality representation whether at trial or during settlement negotiations – where experience counts.
At Hames, Anderson, Whitlow & O'Leary, P.S., we're here to help! We are committed to providing the highest quality personal injury representation. All of our clients receive personal attention from our attorneys and from our experienced and dedicated staff. We strive to represent each client in a way that will match their goals and resources.
We are personal injury attorneys that practice in all courts and before most agencies in the states of Washington and Oregon including Richland, Pasco, Kennewick, Hermiston, Benton City, Prosser, Grandview, Sunnyside, Finley, Burbank, Walla Walla, Desert Aire, Mattawa, and Othello.
Some of the injury and accident cases we handle include:
Car accidents
Traumatic brain injuries (TBI)
Wrongful death
Truck accidents
Boating accidents
Motorcycle accidents
Insurance bad faith and IFCA claims
Pedestrian injuries
Other serious injuries
Personal Injury Cases: What Forms of Damages are you Entitled to?
If you are a personal injury victim, one of your main concerns will be the compensation you are likely to receive after filing a lawsuit. In personal injury cases, you will only be paid monetary damages if a person or company is found to be at fault or negligent in their actions. These damages are meant to put you in the position that you were at before the accident or injury.
Click HERE to learn more about the types of damages to which you are entitled.
When Is Someone at Fault for an Injury?
Most personal injury cases come down to the question of whether the defendant was negligent. Negligence is a legal term that means the defendant failed to behave the way a reasonable person would have under similar circumstances.
For example, in the eyes of the law, reasonable people do not speed when they drive. Reasonable people never text while driving, they never run red lights, and they always keep their cars in a safe operating condition. When drivers fail to act reasonably, they are deemed negligent. If such negligence causes injury, they must pay for the damages.
Negligence applies outside of auto accidents too. For example, in the eyes of the law, reasonable property owners inspect their premises to make sure there are no slipping or tripping hazards. Reasonable employers do what they can to keep their workers free from harm. Reasonable doctors exercise great caution and always follow the recommended procedures of their profession. Reasonable manufacturers take quality control measures to ensure the safety of their products before unleashing them on the public. And the list goes on.
When someone is unreasonable — in other words: careless, reckless, or irresponsible — they are generally deemed to be "at fault" and therefore liable for damages.
Worried About Filing a Frivolous Lawsuit?
Are you concerned your case may be considered a "frivolous lawsuit"? That's how the famous McDonald's Coffee Burn Case was portrayed in the press. This may make you hesitant to file a lawsuit. But let this case serve as an example of how one person refused to settle out of court – like the 700 others before her who had been burned by their excessively hot coffee. Had her personal injury attorney not pushed for a lawsuit, McDonald's would not have reevaluated their practices and changed their way of serving people. Even worse, this woman would not have gotten fair compensation for the days she spent in the hospital.
Read more about it by clicking here.
Insurance Companies Are Not on Your Side
More often than not, personal injury litigation involves an insurance company — sometimes more than one! And working with insurers is almost never a pleasant experience, especially when they owe you money.
Despite what you might assume from their commercials or the friendly tone they take on the phone, insurance companies do not represent your best interests. In fact, the settlements they offer are usually for less than what they think you're really entitled to. And those offers are almost never fair.
Remember: the insurance company looks out for its own financial interests, not yours. They train adjustors to find ways to reduce payouts to accident victims. But you don't have to play by their rules. You're entitled to your rights under the insurance policy and under the law.
Often, just by hiring an aggressive personal injury team, you can send a message to the insurance company that it's time for them to start negotiating fairly. The Tri-Cities personal injury lawyers at Hames, Anderson, Whitlow & O'Leary, P.S. are here to fight for your best possible outcome — and in many cases, we're able to do that by settling your case outside of court.
That said, if justice demands going to trial, we're ready and willing… and we make sure the insurance companies know that too.
Talk to Our Experienced Washington Personal Injury Attorneys Today
If you or someone you love has suffered hardship in an accident caused by someone else's negligence, don't settle for less than you're owed — and don't face the insurance company alone.
At Hames, Anderson, Whitlow & O'Leary, P.S., our promise to personal injury clients is clear:
We will fight tirelessly and aggressively to maximize your compensation.
We will give you the time, attention, and passion you deserve.
Your initial consultation is free (even if we don't take your case).
We will not charge you a fee unless we get you money.
To get started with a no-obligation consultation, contact us online or call now at 509-586-7797.