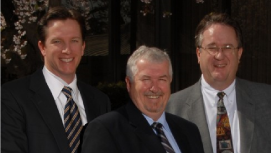 An accident can cause a serious financial strain on you and your loved ones. You will have hefty medical bills that need to be sorted out and may lose your income because of the hours you stay away from work. Accident victims go through pain and suffering after going through such a horrifying ordeal. An accident lawyer can help you continue with your life by making sure the individual or people responsible pay for their negligent actions.
Hames, Anderson, Whitlow & O'Leary, P.S., are Kennewick, Pasco, and Richland accident lawyers you can trust and are committed to aggressive and efficient representation of clients in all legal matters.
For a no-obligation consultation:
Call Now at 509-586-7797
When do You Need a Car Accident Lawyer?
Accident lawyers represent victims of various forms of accidents. It can be a car accident that was caused by a driver's negligence. The other common cases involve medical malpractice. When professionals in the medical field do not practice maximum care when handling patients, they can be charged with negligence. Victims of accidents that involve any form of recklessness can also make good use of an accident lawyer.
The Importance of Legal Representation When an Accident Occurs
To start with, accident lawyers will protect victims from receiving unfair settlements. If you are a victim of any form of accident, always contact your lawyer before agreeing to any settlements with a third party.
In most cases, insurance companies of the victim will try and pay off the least amount possible immediately after the accident occurs and take advantage of your lack of legal representation. Always have your lawyer by your side when negotiating with anyone who wants to offer any form of settlement.
Secondly, accident lawyers will educate their clients on their rights and privileges. Victims of accidents fail to recover the damages they deserve simply because of lack of information. For instance, most people do not know that they can still claim for things which cannot be quantified like pain and suffering. Victims can also recover lost wages and not just medical expenses.
How an Accident Lawyer Helps Victims
Going through an accident is never easy. In some cases, accidents change your life forever. A lawyer will help you to recover financially so that you are still able to fend for yourself and your loved ones, however, you must choose a credible lawyer who is more interested in the well being of their client rather than making huge financial gains.
Accident lawyers will also relieve the burden of handling legal cases when you need time to recover, physically and emotionally. Accident victims do not have the energy and time to attend meetings with other parties, gather documents that would act as supporting evidence and collect witness statements. Lawyers will dedicate their time to handle all legal issues pertaining to your case. The good thing is you can get a lawyer who charges on a contingency basis and offers very flexible fees so it does not have to be very costly.
At Hames, Anderson, Whitlow & O'Leary, P.S., we're here to help! We are committed to providing quality legal services to individuals, businesses and institutions. All of our clients receive personal attention from our car accident attorneys and from our experienced and dedicated staff. We strive to represent each client in a way that will match their goals and resources.
For a no-obligation consultation:
Call Now at 509-586-7797
We are Tri-Cities accident lawyers that practice in all courts and before most agencies in the states of Washington and Oregon including Richland, Pasco, Kennewick, Hermiston, Benton City, Prosser, Grandview, Sunnyside, Finley, Burbank, Walla Walla, Desert Aire, Mattawa, and Othello.